Posted on 29 May 2016 by Kai Pastor
Mapper v0.6.2 brings bugfixes and improvement. It contains 205 commits since 0.6.1, changing 277 files. We want to highlight the following additions:
ISMTBOM and ISSkiOM symbol sets
Settings dialog and translations now also in the Android version
Detailed printer properties available on Windows
Import of OCD version 12
Grid scale factor
Note that this release does not yet include GDAL-based importers. This work-in-progress remains available with the "unstable" builds.
Find all resoved issues on Github. Known issues in 0.6.2 will be collected there, too.
Thanks to all the contributors!
Posted on 28 January 2016 by Kai Pastor
We are adding GDAL, the Geospatial Data Abstraction Library, to the components of OpenOrienteering Mapper. GDAL is an open source translator library for raster and vector geospatial data formats. We identified a number of feature and change requests which will benefit from using GDAL.
It will take a while to materialize, but the implementation of a template class which loads geospatial vector data through GDAL/OGR is already working very well. The supported formats include DXF, Shapefiles, and many more. In contrast to existing implementation, the new template class can preserve style information e.g. in DXF files.
The current unstable snapshot comes with GDAL 2.0.1 for Windows, and it uses the distributions' packages on Linux. (There is no GDAL support for openSUSE 13.2).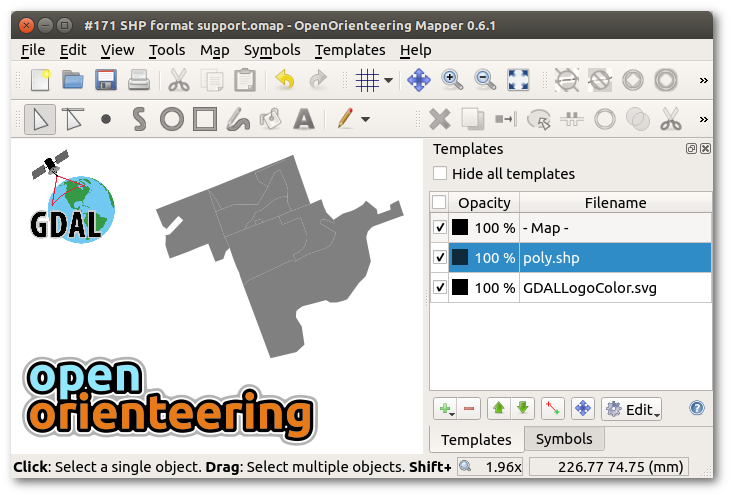 Posted on 10 January 2016 by Kai Pastor
With Mapper v0.6.1, we offer the following new translations:
Magyar (Hungarian - hu)
Русский (Russian - ru).
In total, there are now 15 languages which you can choose for the user interface.
The new release has fixes for minor issues in the program and in the documentation. Mapper v0.6.1 contains 40 commits since 0.6.0, changing 48 files.
Find all resoved issues on Github. Known issues in 0.6.1 will be collected there, too.
Thanks to all the contributors!
Posted on 24 December 2015 by Kai Pastor
No longer a "preview" release! Mapper v0.6.0 is finally ready. It contains a lot of work especially since 0.5.3, and 70 commits since 0.5.97. I would like to repeat and extend the list of highlights:
PDF export with CMYK colors (#482)
Georeferencing with EPSG code, even for EPSG 5514 (#542)
Revised template dialog on Android (#493)
Translation updates (#346)
Documentation updates (#347, work in progress)
Find all resoved issues on Github. Known issues in 0.6.0 will be collected there, too.
We have to say a big THANK YOU to all the contributors. In the last months, the number of contributions started to increase. We are glad that we could add a few new names to the list.
Posted on 16 December 2015 by Kai Pastor
Version 0.5.97 seems to work quite well. Some issues were reported and fixed, so the current unstable packages (for Windows and Linux) are even more mature than this preview release. The documentation finally got some updates, too. It now lives in its own repository on Github, which is also the base of the online manual.
The implementation of the template setup window was heavily modified. Now this dialog is used in the Android version, too. In the next release of the mobile version, it will be possible to change the stacking order of the templates and also to adjust the opacity.